Well it's been a long time since I've updated this blog and there is so much that I have done to the bug. Today was the first day I drove it, so let me catch up on everything up until now.
June 15th I headed for the Pomona Swap Meet, to buy an engine and whatever else I saw, the next morning. But I saw an add on TheSamba for a 1600 dual port that had a new piston/cylinder kit put on and I drove to Pasedena to check it out. It sounded really strong and I took it back with me. Instead of converting the car to 12 volt I wanted to convert the engine to 6v. So I threw on the generator from my engine, put in the 6v. choke and muscled on the 6v flywheel, setting the end-play along the way.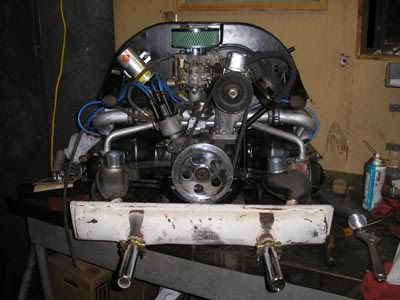 You can see the tools I bought to set the end-play, torque the flywheel and align the clutch. I've done it before without them but let me just say it was soooo much easier with them.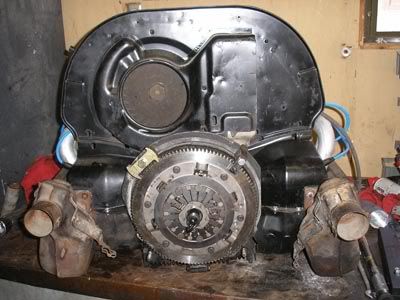 This all done over a few weeks, taking time in the evening and my days off to work on it and also waiting for parts to come in the mail. I prepped the engine bay and put in new seals and such.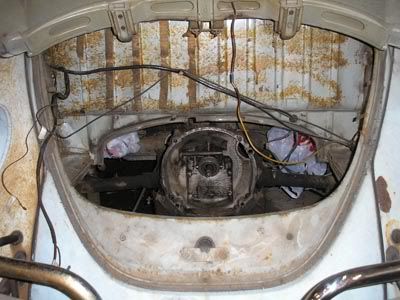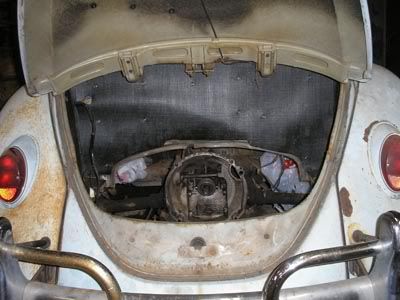 With some help from friends we popped in the engine and I connected all the wires and such.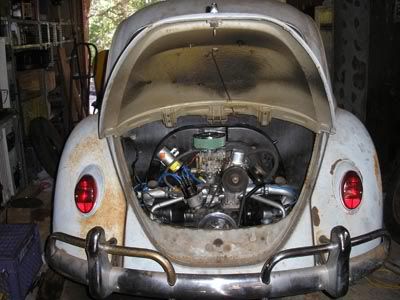 Then I put in a new gas tank and flushed the fuel line. It was a good thing too because this is the rust that came out of the filler hole when I just set the tank upside down!
Having put in the generator, the carb had to come off and other things moved around so all the settings were off, and the accelerator cable had broken so I couldn't give it gas while I turned it over. I got it started eventually and it sounded like crap and was running really rough and hot. what changed? I had to list them, starting with the most obvious:
-12v-6v
-dirty gas maybe blocking a jet?
-timing
-elevation
Thinking I had covered all the electrical bases I started with cleaning the jets, which were clean, though it wasn't a bad idea because as the first gas was pumped into the carb the gas filter got really dirty.
I messed around with the timing a bunch. I changed the points and condenser and put on the new coil. But I wasn't feeling it.
At 6000' I should retard the timing a bit and also the fuel mixture would become rich. But I already messed around with the timing and the engine was running hot, indication of running lean.
Of course the most obvious answer is usually correct, and even though I thought I had converted all the electrical to 6 there was a fuel cut-off solenoid that needed 12 volts and was only getting supplied 6. When I tested it on 6 volts the foot would retract most of the way, but it was my only solution so I cut off the foot and started the engine up. With a few tweaks it was running really well.
When I was dead-ended on the engine I would work on brakes and axle seals. I put on the GR-2 shocks from Gert and new brake hoses and slave cylinders. I replaced the rear axle bearings and Mr. Woooo (Jason Liou) made a really cool tigers-eye necklace out of the old bearing for me and I hung it on my mirror.
I put in new axle seals and new brake pads. I had to do one of the axle seals at least seven times because it kept leaking and it was the last thing I did today before I drove the car. I think it still leaks a little but people have lived with worse and I'm on crunch time since camp is ending one week from now.
I haven't yet finished the brakes since I haven't received my full order of parts and was missing a brake cylinder and hoses for the front, but the e-brake worked and thats how I stopped while driving around camp. Seeing the poor bug in that garage for two months half stripped of drive-train and dignity was really depressing, and I would really lose motivation easily while working on it, just giving up sometimes. But after driving it around today and getting it out of the garage I was refilled once more with hope. so tonight I rolled her back in the garage, promising she would be back on her feet as soon as I could finish her front brakes. I tore out the cylinders and hoses and prepared for the new ones I'll pick up on Monday, Aug. 21.
When I finished I jumped on the electrical. The headlights and running lights turned on. The blinkers wouldn't work but when I by-passed the blinker they lit up like a christmas tree. Seeing how little more work that needs to be done until it can be driven gave me a lot of confidence that it would be driving home.
There is only one problem I see; the generator isn't generating. I put on a new voltage regulator and I will try polarizing the generator but if that doesn't work then I will just take my time going home, stopping at service stations along the way to have the battery charged. No biggie.